Yoast SEO is a WordPress plugin that helps your site perform better in search engines like Google. It also gives you the tools to bring your content to the highest standards of SEO and overall readability. Here, we'll explain how our plugin helps you build the best website you possibly can!
Table of contents
What Yoast SEO doesSEO for your posts and pagesTechnical SEO for your websiteLearn SEO by doing SEO with Yoast
What Yoast SEO does
Yoast SEO offers you loads of tools and features to boost your SEO. Some of these features influence the SEO of your whole site; other features help you to optimize individual posts and pages for search engines. At Yoast we really believe in our motto "SEO for everyone", so you can access all the most essential SEO tools in our free Yoast SEO plugin. But if you really want to give your SEO a boost, upgrade to Yoast SEO Premium — it's got even more amazing SEO features!
Keep reading to find out what Yoast SEO can do for your SEO!
SEO for your posts and pages
If you want your posts and pages to appear in the search results, you need to optimize them! So, when you use WordPress to create/edit posts, you'll find a whole load of Yoast SEO tools to help you draft and optimize great content. And if you think SEO optimization is all about keywords, think again. The tools and tips in our Yoast SEO plugins put equal focus on quality content and user experience, too. Trust us — it will all help your rankings, whether directly or indirectly.
Here's how the plugins will help you optimize your posts and pages:
Make sure you're optimizing correctly (we'll tell you if you aren't)
After you've done your keyword research (you can use our integrated Semrush keyword data for that), you'll have to start optimizing the pages and posts on your sites for the keywords and keyphrases you want to rank for. To do that, you can set a focus keyphrase for an article in Yoast SEO. Then, the plugin uses our content SEO analyses to determine how your content scores on different ranking factors. It checks things like how many times you use your keyphrase, the length of your text, or whether you used any internal links.
The results of these analyses guide you to optimize your post or page to rank with your chosen keyphrase. You'll see red, orange and green bullets to indicate how every factor scores. This gives you an easy overview of the overall score and what you can still tackle to increase your rankings!

The content SEO analysis tells you how to optimize your text for a certain keyword with the use of red, orange and green bullets. This is a screenshot of our Premium plugin.
Get guidance for writing high quality, readable content — in 19 languages!
Optimizing your content to rank with the right keyphrase is important, but don't forget your reader! Even if you write amazing content for search engines, your audience won't benefit from it if they don't understand it. When a person doesn't understand your content, the chance of them buying something from you is close to zero. The same is true for the odds of them sharing one of your articles with their friends. So, you need to make sure your content is also easy to understand. And that's where the readability features come in.
Our readability checks let you adopt the feedback in a way that suits you, without losing your personal touch. If you're interested in all the factors that increase readability, you can read more about the Yoast SEO readability features.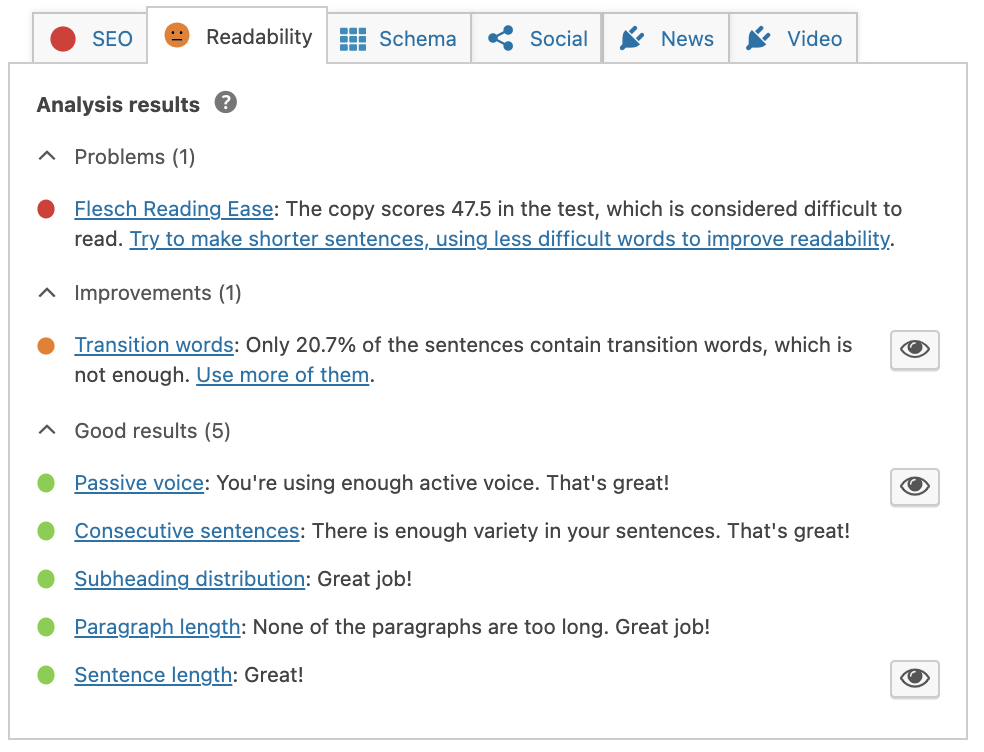 The readability analysis tells you how to optimize your text to make it easy to read with the use of red, orange and green bullets. This is a screenshot of our Premium plugin.
The full set* of readability checks are available for English, German, Dutch, Farsi, French, Spanish, Italian, Portuguese, Czech, Russian, Polish, Swedish, Hungarian, Indonesian, Arabic, Hebrew, Turkish, Norwegian, and Slovak. Selected readability features are available for even more languages; check out the full overview of languages per feature if you want to know more!
* Unfortunately, it's not possible to calculate the Flesch reading ease score for some of these languages. Check the overview below to see which languages.
Yoast SEO's readability features are well-researched analyses that give you feedback on how to optimize your writing. Now, this may sound strange, because the way you write can be very personal. Let us explain how it works. The plugin uses an algorithm to check your content on different factors that are proven to increase readability. We look at the use of transition words, the use of passive voice, your sentence and paragraph lengths and more. But we carefully crafted this algorithm to make it as accurate as possible without being too strict.
Influence what Google shows in search results
Of course, you don't just want your pages to show up in Google's search results. You want your search results to look amazing, too! That's why Yoast SEO comes with a set of tools to let you plan and preview how each page will (probably) look when it appears on Google. Probably is something we can't really avoid here — Google will occasionally decide it knows better, and show something else instead. But by optimizing certain outputs on your page, you can indicate how Google should present your content to users. And that's definitely still something worth doing.
With our plugin, you'll be able to specify an SEO title (the 'headline' of your search result) and a meta description (a short piece of text underneath your search headline, describing what users can find on your page) for each new page you publish. We'll let you know if these are too long, or if your keyword is missing. If you want to, you can also set defaults for all of your pages.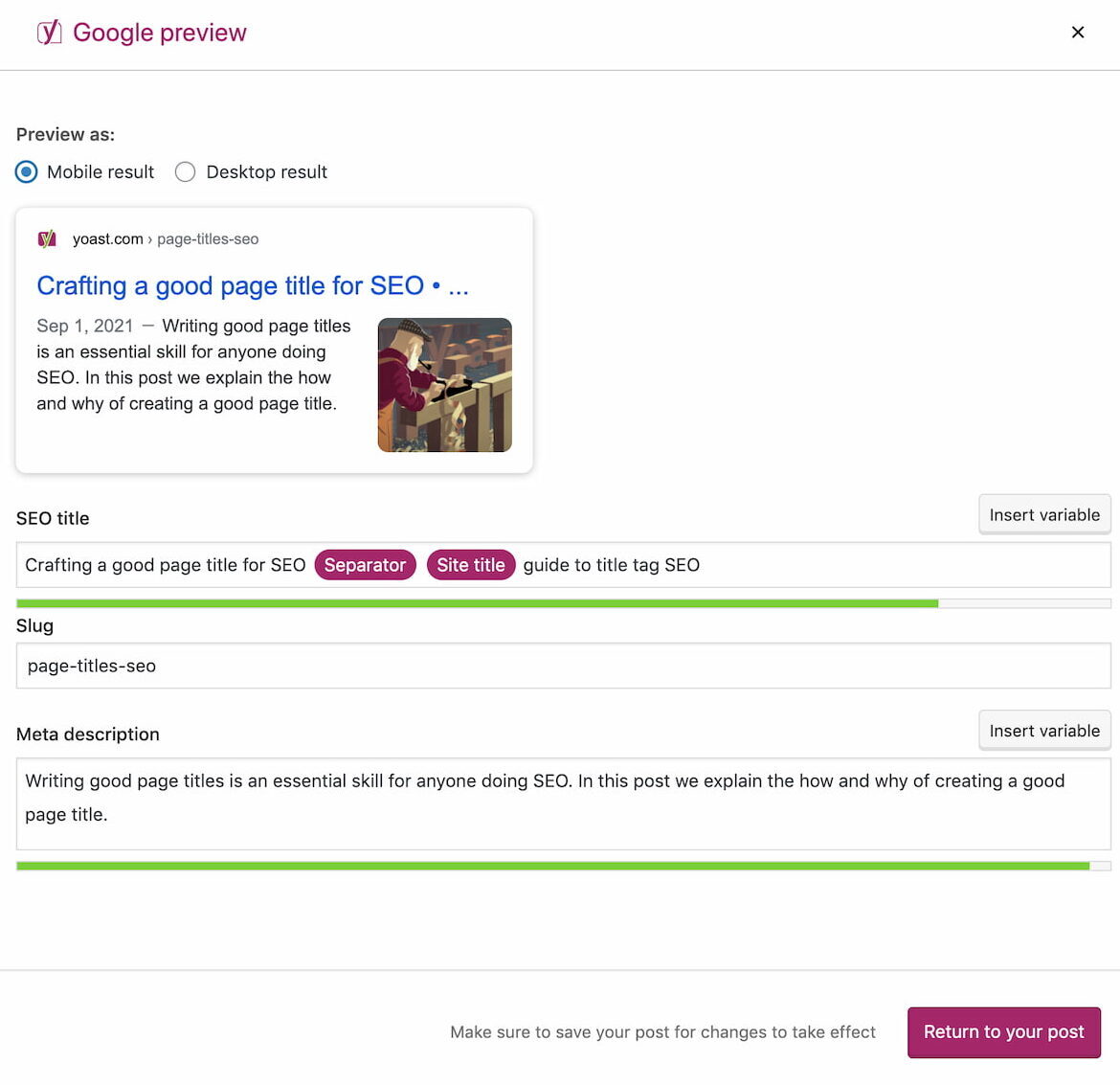 You might have seen search results that contain extra parts before, beyond the usual headline-and-description format. The example below contains recipes with extra information like reviews, cooking time, ingredients and images, for instance. And that's just one example. There are possibilities to add extra information for all kinds of results, including products!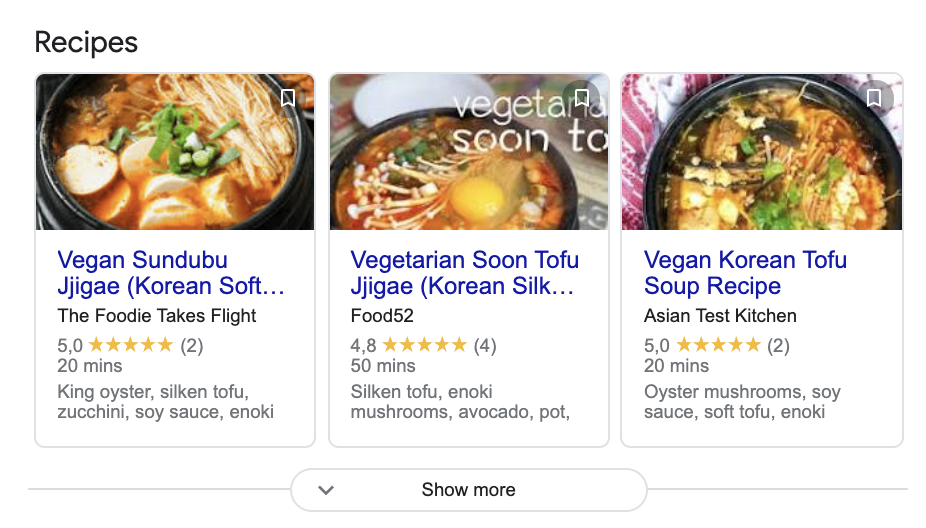 The way to get results like this is by using Schema structured data. We won't lie: it's complex, technical stuff. Luckily for you, you won't need to know a thing about the tech wizardry behind it. Just having Yoast SEO installed means you'll automatically have structured data output for your pages. All you need to do is select a few options to make sure it suits your needs.
Manage social outputs
Now, social media isn't strictly a part of SEO. But when you make great content, you often want to share that content on your social feeds, too. That's why Yoast SEO also comes with Facebook and Twitter previews that you can adjust to make sure your content is always looking great, whoever is sharing it. You can set a specific title, description and OpenGraph image for each post. Again, if you prefer to set one standard structure for all posts, there's an option to do that.
Technical SEO for your website
We've taken a look at what Yoast SEO can do for your posts and pages. But what can it do for your site overall? If technical SEO isn't your strong suit, much of the following may not make sense to you. But, don't worry! Yoast SEO exists to make sure you don't have to know all of these things.
Set up your site for SEO
The plugin settings are very sensible by default, and our configuration wizard also guides you through the steps to get your technical SEO settings right. Once you're done, you'll have an XML sitemap, a robots.txt file, site-level Schema structured data, and more. That all sounds complicated, but the important part is this: the plugin will automatically ensure Google can find, read and index your content. If you don't want some of your content to be found, you can prevent it from being indexed with just a couple of clicks, too.
Manage your content
As you write more and more content for your site, you'll be looking for easy ways to manage it! The Yoast plugin comes with a few features to help you manage your content well — and avoid common SEO issues. For instance, when you make changes like deleting a page or changing a URL, if you don't know what you're doing then things can get messy. And if you make a lot of similar pages that can be a problem too, as Google doesn't know which one it should direct users towards. To help you deal with SEO issues like these, Yoast SEO comes with two unmissable tools: canonical URL tags, and the Redirects tool.
Canonical URLs are really helpful if you have a lot of similar content, such as a webshop with multiple variants of the same product, each having its own page. To make life easy for you, Yoast SEO automatically adds canonical tags to all content marked for indexing. All of the canonical tags will be taken care of in the background; in most cases you won't need to change a thing. If you do need to adjust your canonical URL tags, it's easy to do so.
Redirects are essential if you're moving, or removing, content. The fact is, users will probably still find their way to the old URL — but the content they're expecting won't be there. That's not only disappointing and frustrating for users, but it can also make it harder for Google to find and index your content, too. Redirects can be fiddly to set up on your own. But when you're using Yoast SEO, it's actually hard for you to get your redirects wrong! Any time you change an existing URL or delete a page from your site, you'll get a notification prompting you to set up a redirect. It only takes a few clicks to make sure any visitors arriving at the old URL will be redirected to the right place. Need to check or adjust a redirect you've set up? You can do that easily from the Redirect manager overview.
Build your site structure and internal links
If you want findable content that really ranks, you need to take care of your site structure and internal linking. The Yoast SEO plugin comes with a few tools to help you manage how your content links together: there's a text link counter which will tell you how many incoming and outgoing internal links there are on a page, as well an internal linking suggestions tool (in the editor view) which can help you add more if necessary. Those features are available in both Yoast SEO free and Yoast SEO Premium.
If you're using Yoast SEO Premium, you can use our SEO workouts to make internal linking easier than ever:
SEO workout: the cornerstone approachSEO workout: orphaned content
By doing the workouts, you can easily and confidently set up a solid internal linking strategy, and it will only take a few clicks! When you're done, you won't have any unfindable content on your site (unless you don't want it to be found) and your most important pages will get all the links they deserve.
Even more technical features of Yoast SEO
By simply installing the plugin and following the steps in our wizard, you're already fixing a lot of important technical SEO things for your site! We do these steps for you, so you don't have to know about every little technical detail.
If you really want to know everything Yoast SEO can do for you, then take a look at the complete list of features. Additionally, if you are (a bit more) familiar with technical SEO, you might enjoy reading more about Yoast SEO's hidden features that secretly level up your SEO!
Learn SEO by doing SEO with Yoast
Still need to learn about SEO? One of the biggest benefits of using the Yoast plugins is that they make it really easy to get started, and learn as you go along! We'll give you pointers to help you get everything right, as well as links to read more about how SEO works and how to do it.
If you want to become an SEO expert (or just improve your knowledge) you can learn even more by following our Yoast SEO academy training courses. Access to our academy is free for all Yoast SEO Premium users. Not sure if it's right for you, yet? Have a go with one of our free courses first and get a taste of what's on offer!
quick recap
In this article, I've shown you what Yoast SEO can do for your site. Our plugin helps you improve your content SEO by helping you set a keyphrase and telling you exactly how you can optimize your content to rank with this keyphrase. The plugin also helps you improve the readability of your content by providing feedback that you can easily incorporate into your own writing style. And last but not least, the Yoast plugin improves your technical SEO by taking care of a lot of technical things in the background.
I hope this article gives you some insight into our plugin and what it can do for you! It's also worth noting that we offer two versions of our plugin, so have a look to decide which one suits you best. We offer a free version of the plugin, that will definitely get you started with your SEO. But I advise you to also take a glance at our Premium plugin to make sure you're not missing out on the features that will get you that top position in the rankings.
Okay, I'm convinced. Show me to that Yoast SEO plugin!
The post What does Yoast SEO do? appeared first on Yoast.